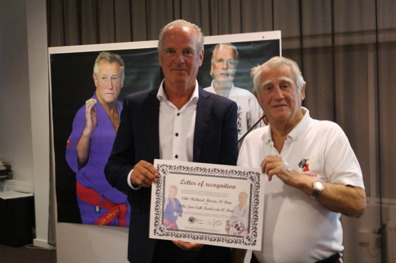 Jiu Jitsu International
founded by Professor Richard Morris 10 Dan

A world wide organization that serves to promote and protect its memebers and represented martial arts. It an organization to any martial arts or martial artist (not Jiu Jitsu alone) and it is in constant duty to build friendship and cooperation between all and everyone.

The organizations governing masters are;
Professor Richard Morris 10 Dan (President) &
Soke Jan-Erik Karlsson 10 Dan (Co-President)
JJI is present world Wide and have a assigned representative for each country.

Technical Director of JJI is Resposible for issues regarding systems, gradings and questions on teaching, seminars etc. other than those handled directly by the governing masters.

List of administration and representatives to be presented shortly!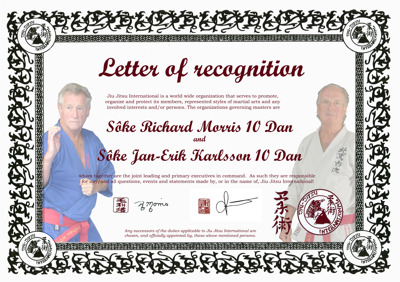 On the official Jubilee of Professor Morris 80th and Soke Karlsson´s 70th birthdays, an announcement was made in order to clarify that the organization has 2 governing masters. See Letter of recognition above!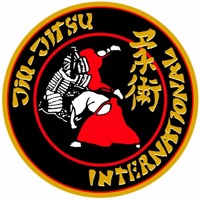 Enrollment to Jiu Jitsu Internation is done in respective country and through assigned representative. Membership has to be recognized by administration.